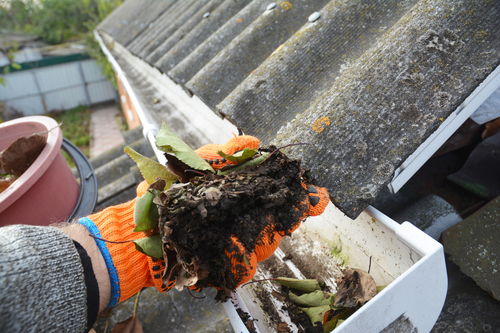 We all have them, they get full of muck, and if they don't do their job we could have some serious problems. Our Gutters. When working properly and looking clean like they should it can really make a homeowner happy and save us all from any future home issues. But when they are full, dirty and not working properly we all know where that leaves us… with some work to do.
When it rains and all the leaves get trapped inside our gutters along with the debris from the roof, dirt and asphalt from our shingles, over time they eventually get clogged. We're going to go over a few simple ways to clean them inside and out and prevent them from getting clogged again.
Inside Cleaning
The best way to clean any gutter is to start by removing anything that is inside.
You will need:
– Ladder
– Bucket or a bag
– Plastic scoop or mini shovel
– Gloves
This part can be very messy and depending on your gutters you will need to be careful of getting any cuts on your hands or arms. Long sleeves are recommended. Use your plastic scooper to help you remove large amounts of debris that may be inside. Use the bucket or bag to throw away the dirt. You will need to keep doing this until it's mostly gone and the remainder can be washed down with water.
Outside Cleaning
We have all seen dirty gutters. They get streaks, dirt, maybe even moss growing on the exterior. Let me reassure you, we can get them looking new again! You will need:
– Ladder
– Scrub Brush
– A phosphate-free cleaner/ degreasing and powerful stain remover
– Towel
Start by wetting the gutter with water, apply the solution and let sit for a few minutes. Afterwards, scrub the surface, and wipe dry with a rag or towel. If needed you can repeat.
Power Washing
Sometimes it does come down to it and you need a more powerful way to clean your gutters. Especially if they are completely covered and they need some serious cleaning or you just don't want to mess with them. Hiring a professional to do the job will save you time and money and they have all the supplies needed to clean.
Preventing
If we don't already have them, investing in gutter protectors is the best way to prevent our gutters from filling up with leaves and debris. There are a few different options out there:
1. Hinged Metal Protectors
Acts as a gate that sits on top of the gutter, attaches the the front, very durable, although it can be seen from below so you will have to think if you like the style.
2. Pvc Protectors
A plastic protector snaps onto the gutter, trapping anything besides water from entering, very durable and they come in many common colors to match your home.
3. Plastic Foam Mesh
Easy to install, fits right inside standard gutter, seals out leaves while allowing large volumes of water to flow through quickly.
It's not over until it's clean. Give these tips a try and clean up your gutters.