Roof Cleaning Northern Virginia
Call us for a free estimate!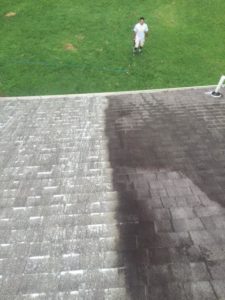 Roof cleaning is necessary for the health of your shingles and the integrity of your roof. We know how much time, energy and money it takes to re-shingle a roof. Once that project is done, you expect it to last the guaranteed amount of years that originally sold you on buying your shingles. A 30 year roof under the influence of algae may not last past 15 years!
Why Roof Cleaning is important:
Algae –  Algae tends to grow on areas of your roof that are shaded by trees or get less sunlight, typically the north and west sides of your home resulting in dark streaks on your roof. Asphalt shingles are manufactured with a granulated coating that act as a UV shield and protectant for the shingle. These granules also happen to be a favorite food for the Gleocapsa Magma (algae). Roof cleaning removes this harmful layer.

Early decay – Roof algae will consume and dislodge the protective granules of your shingles, leaving the asphalt shingle unprotected and vulnerable to deterioration. This will eventually lead to early roof failure and the need to replace your shingles years before the suggested life of the shingle has been exhausted. Our roof cleaning gently removes the algae that can eat away at your shingles thus making your home vulnerable.

Integrity – The integrity of your shingles is directly related to the integrity of your roof sheathing and ultimately your interior ceiling. No one wants a leaky roof or worse yet mold! Roof cleaning helps to prevent this damage by dealing with it from the beginning source, the health of your shingles.
"I'd been looking and looking at my roof and I knew it needed attention.  But I just couldn't make myself take on that project! I'm not crazy about climbing a ladder, let alone scrubbing my roof!"
Northern Virginia Roof Cleaning
At Ecotek Power Washing and Roof Cleaning of Northern Virginia, we understand that there is plenty to do to maintain the appearance and basic upkeep of your home. Roof Cleaning is a big job to take on! Give us a call and let us handle this job for you!
Why should I hire a professional for roof cleaning in Northern Virginia?
Safety – Climbing a ladder is daunting enough. Getting on a steep roof is quite another! At Ecotek Power Washing and Roof Cleaning of Northern VA we take safety seriously! Our employees are thoroughly trained how to do a job right and do it safely. Read this blog we wrote on the importance of safety in roof cleaning. 
Technique – Roof cleaning is an important thing to the health of your home. But if not done properly it can damage your roof! That is why we recommend choosing a professional with years of experience and excellent customer reviews! Ecotek Power washing and Roofing of Northern Virginia has both! We use a low-pressure applicator to apply our roof cleaning solution, using no more water pressure than what typically comes from your water hose. A pressure washer should NEVER be used to clean your roof. The high pressure produced by a pressure washer will dislodge large quantities of the protective granules covering your shingles, thus leaving them vulnerable to the elements. Once applied, our roof cleaning solution removes even the darkest of roof stains in just minutes! Ecotek  Power Washing and Roof Cleaning of NoVa uses only chemicals approved by the Asphalt Roofing Manufactures Association (ARMA).
Cost – At Ecotek Power Washing and Roof Cleaning of NoVa we offer competitive bids. We want your business! And we realize that many of our potential customers are DIY people. Our pricing will turn your head and make you think twice about the hassle vrs getting it done now!
Time – If you're reading this, it's probably on your lunch break, after work hours or on the weekend. The point is, none of us have enough time. How would you like to have the job that nags you every time you drive in the driveway, done while you're at work?! Sounds good to us! At Ecotek Power Washing and Roof Cleaning of Northern Virginia we do many jobs in a day. We know our customers want their roof clean quick and painless. Us too! Give us a call and let us make your roof sparkle just in time for you to pull in from work and smile!
Roof Cleaning Company in NoVa
At Ecotek we pride ourselves on cleaning your roof so that it looks like new, thus protecting it from harmful destructive bacteria that will damage your home.
Call us 804-324-3660